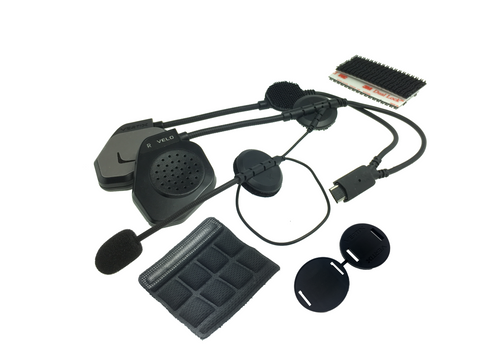 VELO Road Bike Headset
This accessory is designed specifically to work with the VERTIX Velo Cycling Communication Control Unit for Road Cyclists and you can buy this to mount on another helmet for easy use interchangeably.
It is a specially designed and durable set of floating speakers and Mic which offers easy and straightforward mounting on almost all regular vented helmets. 
The sleek, finely-tuned speaker enclosures comes in stylish smoke-grey brushed aluminium finish and powerful weather-resistant speakers to produce the best sounding music and crystal clear voice quality.
The speakers hover outside the ear providing full environmental awareness even while you are communicating or listening to music. You can easily lower the volume if you feel it is too loud using the wireless full-featured remote control on your handlebar or simply move the speakers further as they are mounted on flexible booms.
This headset system seamlessly integrates with your helmet making it easy to put on and take off without wires running over your body. For more enjoyable and safer rides, get your VERTIX Velo Road Bike headset today!
Contents: VERTIX Velo Road Bike Headset
Not included: VERTIX Velo Cycling Communication Control Unit for Road Cyclists. 
The VERTIX Velo Road Bike Headset has a limited warranty of 90 days. 
 NOTE :  This item qualifies for economy shipping which may take up to 15 days for delivery; in most cases just about 10 days.  Outlying areas and some countries may take upto 20 days and an additional delivery surcharge may be applied. We will advise should your order be in this category. 
---
We Also Recommend